Whatever the time of day, the VIU Terrace is the space where you can devote a moment to yourself: for breakfast, before an important meeting, or for an aperitif, before returning to enjoy the magic of the Milanese night, it is here that the leisure philosophy of the VIU is expressed in all its facets, giving, with every moment spent, an unforgettable perception.
On the eighth floor of the facility, in a space that opens 360 degrees to the Milan skyline, the VIU pool fits harmoniously and is essential as a place of leisure and serenity.

Enjoying a summer cocktail, at sunset, on the infinity deck over the water is a way to take time to relax, breathe and then return to immerse yourself in your daily routine.

Access to the VIU Pool is reserved for hotel guests until 6 p.m.. From 6.30 p.m. to 11.30 p.m. it is also open to outside guests to enjoy an aperitif or a drink by the pool. In the case of private events, times may be restricted. .
Every moment of the day is good to enjoy, from above, every nuance of the city. The VIU Terrace is a unique place, far from the hustle and bustle of the city, in which to absorb all the beauty and tranquility of Milan by dedicating yourself, for a small moment, only to yourself.
br>
Breakfast, besides being the most important meal of the day, is also an opportunity to focus all your energy before plunging into the work or leisure activities planned during the day.
A moment to calmly enjoy, inside The VIU Terrace on the eighth floor, the exquisite baked goods and dishes skillfully prepared by the chef.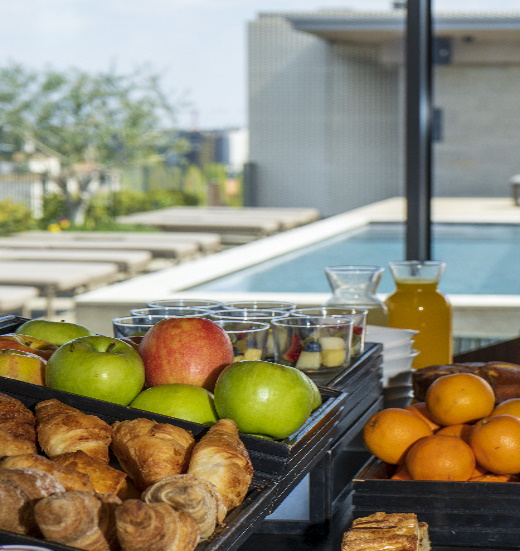 Not only the view, but a 360° experience
A cocktail list designed and curated directly by the team at The VIU Terrace is to be enjoyed in a multifaceted environment featuring a contemporary lounge layout. From the great timeless classics to the most sought-after drinks, with fresh and appealing flavors, all accompanied by dishes with bold yet balanced flavors. A perfect combination to spend a few hours relaxing.

The spaces are intended for the guest's quiet with gentle music and soft lighting that allows the guest to enjoy, at any time of the day, a moment of chat and pure relaxation.

The Hotel's Food&Drink spaces are also available, for the organization of events, after consultation on the type of set-up and service required.
For inquiries and availability please send an email to events@hotelviumilan.com.